How To Shop For The Golfer That Has Everything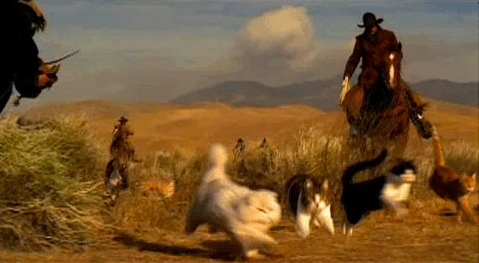 Ever feel like this when you know you've got to shop for a golfer that has it all?!?! We all have!
Trying to buy a gift for a golfer is like trying to herd cats. It can be difficult, frustrating and sometimes flat-out annoying. The main reason is that most golfers buy everything they want or need throughout the season. When the holidays "roll" around, they've all but run out of golfing needs. Well, we're here to help you find a gift that will make them realize they were missing something.
Before You Shop…
Golfers are notoriously superstitious people, so before you start shopping try to do some recon. Find their golf bag and jot down a few key things:
Type/Brand of Clubs
Type/Brand of Bag
Type/Brand of Golf Balls
Any Accessories
Brand/Size of Glove
While you're taking note, be sure to pay attention to the condition of these items to see it's time for an upgrade. Also, check out the condition of the headcovers, they may be old and worn out – just like the seats of that "classic" station wagon they won't sell.
Once you've made a log of inventory, figure out what's in the worst, border-line embarrassing condition. You've found your first gift!
If you're still struggling for a starting point. Here's some suggestions that are most popular among golfers and carry a low-risk of purchasing an "incorrect" item.
*Disclaimer – with all suggestions, be sure to purchase the same brand they currently use.
For golf gloves, size and feel are most crucial. Each glove is marked with its size, it's generally located on the inside portion of the glove (underneath the velcro strap or a tag lining the wrist). You may look and notice the glove marked "CML". Don't be alarmed, glove sizing strays from the norms of S, M, L. You may see a combination of size with a C, such as CML or CL. The "C" stands for  cadet, which is made for people with shorter finger lengths.
For golf balls, check the model first. The golf ball will have both the manufacturer name and model printed on it. The manufacturer is typically the featured logo on the ball and has a number underneath it. The model would be on the side of the ball. Golf balls are one of the most popular gift ideas, you can't go wrong. Take it a step further and personalize the golf balls, this is typically free during the holiday season.
Most golfers like a golf bag that matches the same brand as their golf clubs (i.e. TaylorMade clubs = TaylorMade bag). HINT – If their current bag doesn't match their clubs, you now know what to get. Once you know the brand, you have to select a bag style. Bags are available in many styles, such as stand bags, cart bags and staff bags.
Stand bags are the most popular and used by golfers who either walk or ride when they play. Stand bags will have support legs that allow them to "stand" on their own.
Cart bags are larger and are mainly used by those that ONLY ride. There will be much more room for storage in these bags.
Staff bags aren't typically purchased a lot because the bag is so large. If a golfer wanted a staff bag…..they would ask for one.
*Bags are available in multiple color options. If you're unsure of what color to get, the best advice is to stay away from an all-white bag. These tend to get dirty quickly and easily.
Does your golfer travel with their clubs more than once a year? If so, a travel bag would be great gift. Travel bags come in both hard and soft case options. The hard cases are generally more expensive, but provide much more durability and security for equipment. Soft cases provide good, overall protection for equipment, but are susceptible to damage caused by the airline worker who just found out he has to work a double shift.
Golf accessories like tees, ball markers and divot tools can be the perfect stocking stuffer. For non-stocking stuffer accessories a trunk locker can be a big hit. This is a small bag/briefcase that stows in the trunk of their car at all times. It has room for golf shoes, a change of clothes, hats, and other handy items that can be readily available when they get to the course.
Books about golf are another great gift idea! If your golfer owns a lot of books, take a look at whether the books are instructional or not, and it will make your decision a lot easier.
Best of luck shopping this holiday season! Still hunting? Take a look at our Top 10 Gifts for the 2014 Holiday Season to see what's "HOT".
Ryan Spaziani has been a Class "A" member of the PGA of America since 2012. He graduated from the Professional Golfers Career College in Orlando, FL with an Associate Degree in Professional Golf Management. He has worked for both private and public golf courses in the Raleigh, North Carolina. Ryan has a strong passion and extensive knowledge for teaching, club fitting and growing the game of golf.